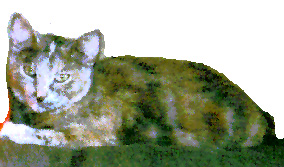 Have you seen Emily?
$300+ Reward!!!


Emily looks like this cat, but this isn't actually her. No pics available.
Cat lost in Putnam Area
Cat recently lost in Putnam area, in vicinity of Animal Hospital of Putnam. Cat is a unique blue/gray tabby, with a friendly but skittish personality. She goes by the name of Emily. I greatly need assistance in located her. She was lost on Thursday, 12/31 while attempting to bring her to the vet to have her stitches removed, she may still have the stitches on her belly and front right underarm. I am willing to be VERY generous to the savior of my loved animal. The cat is not from the area so may have traveled from Putnam to another location.

Cat's history/info
Emily, was recently found as a stray in my neighborhood of Leicester, Massachusetts. After several unsuccessful attempts to locate her owner I decided to take her in as my own. She recently had received all her shots and was given medical care for lacerations on right front right underarm. She also has been "fixed". The stitches may still be on her, as they have yet to be removed.
Please contact me with ANY information
To contact me with information, please try the following:
1) Call me @# 508-892-4897 (Ask for Eric or Marc, if no answer, please leave message or go to # 2, 3, 4, & 5)
2) Call my Cell-Phone # 508-847-8146
3) Page me @# 1-800-759-8888 pin # 1416921
4) Call me @ work 1-800-445-2588 ext 70545
5) Call my lovely girlfriend (Jess) @# 508-835-6414

Below is a SIMILAR picture of Emily, (Unfortunately, I have no actual pictures of her)