CCRW Main | About CCRW | | Animal Welfare Groups
Discount Spay Clinics ||| CFA Shelters | | News:rec.pets.cats | Cat FAQ | Feral Neuter/Release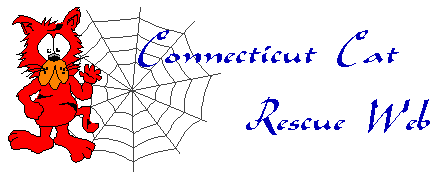 ---
The Connecticut Cat Rescue Web is maintained by Dee Dreslough.
This site has served its purpose, and will be shutting down soon. Please visit Petfinder.org to locate local shelters which can help you find a new pet, or locate a lost pet.
Return to this main page at any time by using the navigation links on each page or clicking the CatWeb logo.
General CCRW Information
CCRW IS NOT A SHELTER -- it is a list of shelters to help CT residents locate the help they need. Please do not email us asking for help, or to take in, your cats. Only email us if you need help using the website. Thanks!
CCRW lists
Important Cat Resources
---
TO REQUEST UPDATES OR CORRECTIONS TO THE WEBSITE:
email dee@dreslough.com
Copyright © Connecticut Cat Rescue Web 1995-2008