CCRW Main | About CCRW | What's New | Listing Instructions
For Adoption | Wanted to Adopt | Lost & Found | Animal Welfare Groups
Discount Spay Clinics | Events | Guest Book | CFA Shelters | Save-A-Pet Online
| News:rec.pets.cats | Cat FAQ | Feral Neuter/Release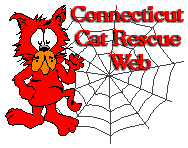 Upcoming Cat Events
The following events have been listed by local animal welfare organizations. Please drop by to support their efforts and possibly adopt a pet!

Email Dee to list your event here.
---

Ongoing, bi-weekly
Rehab-A-Cat/T.E.A.M. Mobile Spay Clinic
In New Haven. $49 spay or neuter plus vaccinations. Call (203) 787-5532 for an appointment now, appointment slots are going fast!
---
Ongoing Fundraiser
New Leash on Life
Homeless Homer and Morris the Cat help homeless animals! How? Clip the Homer or Morris symbols on participating pet foods and send them to New Leash on Life, P.O. Box 29, Bethel, CT 06801. We can redeem them for cash for rescue group. Other participating shelters can be found by calling the 800 number on the food products. Foods include 9 Lives, Pounce, Cycle, Pupperoni, and other foods from Heinz Pet Products. Symbols are usually found near the ingredient list. For more information or a complete list of participating foods, contact <kmcgraw@erols.com>
---
TO REQUEST UPDATES OR CORRECTIONS TO THE WEBSITE:

email catrescue@dreslough.com

CCRW Main | About CCRW | What's New | Listing Instructions
For Adoption | Wanted to Adopt | Lost & Found | Animal Welfare Groups
Discount Spay Clinics | Events | Guest Book | CFA Shelters | Save-A-Pet Online
| News:rec.pets.cats | Cat FAQ | Feral Neuter/Release

Copyright © Connecticut Cat Rescue Web 1995-2002