CCRW Main | About CCRW | What's New | Listing Instructions
For Adoption | Wanted to Adopt | Lost & Found | Animal Welfare Groups
Discount Spay Clinics | Events | Guest Book | CFA Shelters | Save-A-Pet Online
| News:rec.pets.cats | Cat FAQ | Feral Neuter/Release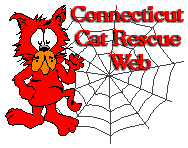 Connecticut Animal Welfare Organizations
If you wish your Connecticut organization to be listed here, contact me. I can also provide a link to your organization's home page, if you have one. Last Updated Feb. 4, 2003

---
A great list of No Kill Shelters found throughout the United States is located at CLC Publishing.
RESCUERS - Use Petworking.com to get your group on a national not-for-profit listing service!

Shelters listed here are both kill and no kill...If you need a no-kill shelter, use the CLC Publishing List or call these shelters and ask.

Towns Covered: Agawam (MA), Amesbury (MA), Bethany, Bethany, Bethel, Bloomfield, Branford, Bridgeport, Brookfield, Clinton, Colchester, Cornwall, Danbury, Dayville, East Haven, Fairfield County, Falls Village, Guilford, Hamden, Hartford, Kent, Litchfield, Meriden, Middlebury, New Haven, Newington, Newtown, Noank, North Haven, Norwalk, Old Lyme, Orange, Oneco, Prospect, Quaker Hill, Ridgefield, South Boston (MA), South Britain, South Windsor, Southport, Springfield (MA), Stamford, Storrs/Mansfield, Terryville, Tolland, West Hartford, West Haven, Westbrook, Westport, Wilton, Woodbridge, Woodbridge.

Even if your town isn't listed, just use resources that are located close to where you live.

Abandoned Animals (Updated 12/14/98)
Rescues and rehabilitates cats and kittens and puts them up for adoption. Spays and neuters them before they are placed (if over 5 months). They don't take people's pet cats in, though. Stray Cats only from on street and in the woods.
203-287-9100

Adopt Homeless Paws (October 18, 2001)
http://www.adopthomelesspaws.org
b.lb@verizon.net
Merrimac, MA
Local & National Adoptions.

AID Cat Shelter (Animals in Distress) (Updated 12/14/98)
The Shelter is open from 2-4 pm on Saturdays for adoptions. If you're interested in volunteering, getting information on spaying or neutering or making an appointment for any other reason, please call: 762-5914 or 847-3784
Danbury Road, Wilton CT
203-762-2006

Aid to Helpless Animals
Contact: Joan
PO Box 434, Bloomfield, CT 06002
860-727-8920

Alliance for Animals (Updated 12/21/98)
runs a low-cost spay/neuter clinicfor cats & dogs in South Boston, Mass. Also has a cat shelter.
web page: http://www.afa.arlington.ma.us
Alliance for Animals Mobile Action Clinic
232 Silver Street
South Boston, MA 02127-2206
Phone: 617-268-7800

Animal Friends of CT (Updated 9/10/99)
A No-Kill organization. They find stray cats/injured cats and dogs and rehabilitate them for adoption. Sometimes their animals are rescues from the pound. All animals are checked by a vetrinarian for problems before adoption, and any unadoptable animals are kept and well cared for. This group also investigates animal abuse cases and takes them to court. DONATIONS NEEDED - Because Animal Friends of CT covers vet care and legal costs for injured and abused animals, their budget is often strained. Donations are most welcome. :-)
PO Box 370306, West Hartford, CT 06137-0306


Animal Haven
89 Mill Road, North Haven
203-239-2641

Animal Rescue Foundation (ARF) (Updated Aug. 17, 1999)
A no-kill shelter. Adoption hours are Saturday and Sunday, 1-4 p.m. The ARF shelter is run by volunteers. Anyone 18 years or older interested in volunteering, please stop by any Saturday!
Shelter address: 366 Main Street, Terryville, CT 06786, (860) 583-3089 (Sat/Sun, 1-4)
Mailing address: P.O. Box 91, Middlebury, CT 06762


Animals for Life
P.O. Box 7
South Britain, CT 06787
Help Line - (203) 267-6777

Animal Welfare Society of New Milford (AWS) (Feb 4 2003)
We are an independent, non-profit, no-kill animal shelter. Visit our website to see some of the great animals available for adoption. Serving the towns of New Milford, Brookfield, Bridgewater, Roxbury, and Washington, CT.

8 Dodd Road
New Milford, CT 06776
(860) 354-1350

Bethany Animal Shelter
Bradley Road, Bethany
203-389-5991

Branford Compassion Club (Coming soon...)


Bridgeport Animal Shelter
525 Asylum Street, Bridgeport 06610
203-576-8119


Catales, Inc. ( Aug 9 2001)
www.catales.org
P.O. Box 901
Middletown, CT 06457
860-344-9043
We are a non-profit, volunteer run, no-kill cat rescue group out of Middletown, CT. We also conduct a TVNR program. (Trap Vaccinate Neuter Release)


Cats Only
New Haven, CT
203-287-9100

Connecticut Humane Society (Updated 12/14/98)
Visit their webpage for comprehensive information, directions and anything you might possibly need. :)
HEADQUARTERS
701 Russell Road
Newington, CT 06111
860.594.4500 Adoptions
860.594.4501 Drop Offs
860.594.4502
Administration, Law Enforcement, Community Services

The Bethany Shelter
788 Amity Road (Route 63)
Bethany, CT 06525-3016
203.393.0150
Fax 203.393.3570

The Waterford Shelter
P.O. Box 41
169 Old Colchester Road
Quaker Hill, CT 06375-0041
(Waterford, CT 06385-0041)

860.442.8583
Fax 203.437.7181

The Westport Shelter
455 Post Road East
Westport, CT 06880-4435
203.227.4137
Fax 203.227.2715

Creature Kindness (Added Jan. 12, 2000)
P.O. Box 185211,
Hamden, CT 06518
(203) 389-2242
Will help with advice on trap, neuter, & release of feral cats. Promotes education about pet overpopulation and what you can do about it.

Danbury Animal Welfare Society (updated Feb 4, 2003)

The Danbury Animal Welfare Society, Inc. is a non-profit, 501(c)(3) organization. We were formed in 1974 with the mission of caring for neglected, abused, stray and abandoned animals in the Greater Danbury, Connecticut area.

PO Box 971
Danbury, CT 06813-0971
203-798-5816. This is an answering service. Your call will be routed to the appropriate person, and returned as soon as possible.



District Animal Control - Updated August 10, 2002
http://web2.petfinder.org/shelters/CT118.html
Serving the towns of Bethany,Orange,Prospect and Woodbridge
135 Bradley Road
Woodbridge, CT 06525
(203) 389-5991

East Haven Animal Shelter
Commerce St, East Haven
203-468-3249


Feline Friends (Agawam Massachusetts - No Kill Shelter) (January 17, 1998)
Due to financial constraints, we can no longer accept surrendered or stray
cats, but do provide information on other no kill or low kill shelters, as
well as low cost spay/neuter inforation. We hold adoption clinics twice a
month and also provide "private adoptions". At the moment we are a bit
overwhelmed with wonderful cats who need to be placed in an environment where
perhaps they will be viewed by more prospective owners. (We do place a number
of cats at the cat show at the Eastern States Exposition in April.) Foster
homes are sought.

Telephone: (413) 786-5019
Contact: Michelle Taylor

Forgotten Felines
5 Carter Hill Rd, Clinton, CT 06413
860-664-1347
<forgotten.felines@snet.net>
Forgotten Felines rehabilitates and tames feral cats, and places them for adoption.

Foundation for Animal Protection Spay/Neuter Assistance
PO Box 5263, Brookfield, CT 06804
372-9661
Furry Friendz
Furry Friendz is a non-profit, no-kill feline rescue based out of East Haven, Connecticut practicing "early age spay and neutering prior to adoption".
Visit their Website!
203 466-PURR
P.O. Box 120065
East Haven Ct 06513


Greater New Haven Cat Project
(203) 782-CATS
http://www.bayarea.net/~stenor/catproject/

Hamden Animal Shelter
Shepard Avenue, Hamden
203-230-4080
Helping Paws
This group features a local public access television show, as well as animals for adoption.
Phone: 860-267-0496
email: helpingpaws@sbcglobal.net
Office Address:
Helping Paws, Inc.
P.O. Box 476
Colchester, Connecticut 06415-0476

Homeless Animals, Inc
PO Box 513, Southport, CT 06490
203-259-4636

The Hope Alliance Inc. (1/17/01)
The Hope Alliance, Inc.
C/O LMR
88 Morse Place
New Haven, CT 06512
The correct phone number is: 203-466-2185
hopealliance@hotmail.com
http://hopealliance.hypermart.net



Hope Shelter for Animals -- "The LORD is our shepherd"
P.O. Box 34
Meriden, CT 06451
203-634-1345

KATS (Karen's Aid to Strays)
We are an IRS approved 501(c)(3) organization that rescues, rehabilitates, and tries to find suitable homes for stray cats. (We can also help other groups starting 501(c)(3) orgs by offering advice.)
Karen's Aid to Strays, Inc.
P.O. Box 95
Wilton, Ct. 06897-0095
Kitten Kaboodle
Kitten Kaboodle was created when a different rescue closed down. We are a temporary group, trying to find adoptive homes for the cats and kittens from the prior rescue group. We regret that we are unable to take in any new cats or kittens.
Kitten Kaboodle
New Haven, CT
Email: Naffycat@aol.com
Kitty Angels (April 19, 2000)
Kitty Angels is a no kill shelter currently maintaining over a hundred cats and kittens in northeastern CT. 60 adult cats are in the main shelter in Coventry, while nursing mothers and their litters are in foster homes. KA also runs a shelter for asymptomatic FeLV/FIV positive cats. KA offers low cost spay neuter ($25/male 28/female) through Suffield Vet Hospital. In addition, feral cats spayed or neutered through this program can get a discount on vaccinations ($5) and a 50% discount on other medical procedures. KA is a member of Alley Cat Allies and is involved in controlling feral cat colonies through a trap - spay/neuter - release program.
Coventry, CT
860-875-6122

Last Post Cat Refuge
The Last Post is a large, private animal sanctuary, situated on thirty-five acres in rural Connecticut. The sanctuary is home to more than 200 cats, along with a variety of other domestic animals. The Last Post's primary purpose is to provide a safe, home-like surrounding for animals whose previous guardians have died or entered nursing homes. Animals are left to the Last Post in wills, or special arrangements are made by people no longer able to care for their friends. Most of the animals at Last Post are up for adoption, unless previous guardians stipulate otherwise. All animals who are not adopted live out their natural lives at the sanctuary.
Last Post is located in Falls Village in Northwest Connecticut.
860-824-0831

Little Guild of St. Francis
285 Sharon Goshen Turnpike, Cornwall
203-672-6346

Luvana, Inc.
Permanent home for elderly and/or disabled felines.
Hartford
Annis: 860-666-3459
Red: 860-666-3459

Massachusetts SPCA Springfield Shelter (just north of CT along I-91)
53 Bliss Street, Springfield, MA 01105
413-736-2992
WWW: http://www.mspca.org/

Meow, Inc (12/27/99)
PO Box 999, Litchfield, CT 06759
860-567-3277
WWW: http://www.meow-inc.org

Meriden Humane Society (Updated 1/17/99)
540 Oregon Road
Meriden, CT 06451
203-238-3650

Noank-Mystic Veterinary Hospital in Noank, Connecticut (2/2/99)
Our hospital has an orphanage in it that has been very sucessful. Dr. Albert Haberle started the no-kill orphanage several years ago and we have placed over 1500 cats and kittens into loving homes. We are a non-profit organization and spay/neuter, FIV/Leukemia test and vaccinate all kitties before they find a new home.

Noank-Mystic Veterinary Hospital
3 Elm Street
Route 215
Noank, Ct 06340

NorthEastern Connecticut Animal Rescue (NECTAR)
PO Box 362, Storrs, CT 06268
860-423-0849
email: njwv42b@prodigy.com

New Haven Animal Shelter
81 Fournier, New Haven
203-946-8110

New Leash on Life (Updated 12/17/98)
New Leash on Life is a non-profit, all-volunteer organization whose purpose is to help abandoned, abused and unwanted animals in Fairfield County, Connecticut. We care for impounded and homeless animals, providing temporary foster homes, food, healthcare, and TLC for countless homeless animals. We work to find loving, permanent homes for all our animals. Visit their webpage for all the details!
For more information on adopting a pet, becoming a volunteer, or giving a donation to New Leash on Life, please contact:
New Leash on Life <newleashonlife@geocities.com>
P.O. Box 29
Bethel, CT 06801
203-934-8397 or 203-374-9072
WWW: http://www.newleashonlife.org
WWW: http://www.geocities.com/Heartland/Meadows/5222 (Old Site)

Newtown Animal Welfare
203-798-5888

North Haven Animal Shelter
Universal Drive, North Haven
203-239-5321 ext 415

Nutmeg Cat Fanciers -- Spay/Neuter Program
PO Box 566, Meriden, CT 06450-0566

PAWS (Pet Animal Welfare Society) (June 8, 2002)
P.O. Box 7428
Wilton, CT 06897-7428
Telephone (203) 750-9572
Website: www.pawsct.org
Email: paws@pawsct.org

PAWS is a non-profit, no-kill rescue dedicated to finding homes for homeless and abused cats & dogs. All pets are given medical attention, vaccines, spay/neuter and most importantly; love and a second chance at a new life. We also provide low cost spay/neuter services for both owned & feral cats. Volunteer opportunities are also available.

Pet Connections, Inc. (Updated 12/17/98)
We ALWAYS have wonderful, older cats that need homes!
P.O. Box 1033
Old Lyme, CT 06371
Phone 860-434-0246 Glynn
860-434-7641 Diane
E-mail: <Ittie2@aol.com>

PET PALS NORTHEAST, INC. (Updated 12/19/98)
P.O. Box 64
Plainfield, CT 06374-0064
860-546-1280
Donna Musto, President
Julie Crouch, Treasurer/Secretary

Non-profit 501(c)(3), Dog and cat rescue and adoptions and foster program. Solely funded by fundraising and donations. We accept all types of pet food coupons and Homeless Homer symbols.

Pets & Wildlife
Kent, CT
927-3146

Project Save-a-Cat
Ridgefield
431-9111

Protectors of Animals (June 8 2002)
East Hartford, Ct. 06118
(860) 569 0722
Web page= poainc.org

Pound Assistance League - Placement & Adoption
Guilford, CT
453-5903

Quinebaug Valley Animal Welfare Service (Updated 12/21/98)
QVAWS operates in Northeast Connecticut and is IRS non-profit compliant. Our mission is spay/neuter. We rely solely on donations and fundraisers. WE DO NOT HAVE A SHELTER!!
Email: rgirard02@snet.net
Quinebaug Valley Animal Welfare Service
P.O. Box 791
Dayville, CT 06241
860-963-5452

Rehab-A-Cat
New Haven
Rehab-a-Cat provides assistance with spay/neuter programs for feral colony management, and has some cats and dogs for adoption.
http://www.bayarea.net/~stenor/rehabacat/
203-787-5532 (Kim)
SABITA'S RESCUE
an animal rescue group specializing in the rescue, adoption and sheltering of abandoned and stray kittens, cats and dogs.
P.O. Box 353
East Glastonbury, Connecticut 06025
860.633.5652
sabitasrescue@netzero.net


SAFE (Save Animals From Elimination)
SAFE is a group of volunteers working together to rescue cats and dogs. Rescued animals are housed in volunteers own homes. At any given time during peak breeding season (spring through fall) a given member may have several pets available for adoption.

Debbie
203-467-2819
East Haven

Lavonne
203-934-2056
West Haven

Save Our Strays
1677 Post Road East, Westport
203-255-0514

SCAT (Southern Connecticut Animal Trust) 11/12/99
SCAT is a no-kill shelter seeking volunteers. They have lots of cats and kittens for adoption. They don't have a central shelter, but rely on a foster home system to give homes to cats in need.
http://adoptatscat.petfinder.org.
P.O. Box 4717
Stamford CT 06907
Phone: 203-967-2281
Email: sanjula@hotmail.com
Second Chance Sanctuary (7/15/2002)
http://www.secondchancesanctuary.org
P.O. Box 35
Oneco, CT 06373

"Our mission is to dedicate ourselves to providing a safe haven and solid adoption opportunity for abandoned, abused, and unwanted animals. We will strive to do the most we possibly can to fulfill this goal and to ensure the well-being of animals and their enduring desire to find love, affection, and most of all, a great home! "
Second Chance Sanctuary is a Tax-Exempt, No Kill Shelter
mailto:erinssanctuary@myeastern.com
Work Phone: 860-564-3720
Fax: 908-292-1001

TEAM
TEAM is a listing/matching service for cats and dogs for adoption.
PO Box 591
Westbrook, CT 06498
(Toll free) 888-367-8326
(Local area) 860-399-5569
(FAX) 860-399-4530

The Spayed Club (Updated 12/21/98)
"The Spayed Club is an all-volunteer, non-profit organization whose mission is to solve dog and cat overpopulation in the Greater Philadelphia area and beyond. Through education and a unique, low-cost spay/neuter program, we work today to prevent tomorrow's unwanted litters from being born. Since June 1990, along with participating veterinarians, TSC has helped to spay/neuter over 10,000 dogs and cats."
More information coming...
Valley Shore Animal Welfare League
647 Horse Hill Road, Westbrook, CT 06498
860-399-7561

VCA Valley Animal Hospital/Courtney Blowers Animal Adoption Fund
This hospital has an adoption program for cats and some dogs. 47 Patria Road
South Windsor, CT 067074
860-528-2178

Wallingford Animal Shelter (10/22/99)
Now has it's own web page with complete information, pictures of animals for adoption, and more!
5 Pent Rd, Wallingford
203-294-2180

West Haven Animal Shelter
7 Collis Street, West Haven
203-937-3642

Woodbridge District Animal Control (Serves Woodbridge, Bethany, Orange, Prospect)
203-389-5991
Misc:
Annex Cat Rescue, Canada: http://www.annexcatrescue.on.ca/
The Directory Of Cat Web Sites
---
TO REQUEST UPDATES OR CORRECTIONS TO THE WEBSITE:
email catrescue@dreslough.com
CCRW Main | About CCRW | What's New | Listing Instructions
For Adoption | Wanted to Adopt | Lost & Found | Animal Welfare Groups
Discount Spay Clinics | Events | Guest Book | CFA Shelters | Save-A-Pet Online
| News:rec.pets.cats | Cat FAQ | Feral Neuter/Release
Copyright © Connecticut Cat Rescue Web 1995-2002