CCRW Main | About CCRW | What's New | Listing Instructions
For Adoption | Wanted to Adopt | Lost & Found | Animal Welfare Groups
Discount Spay Clinics | Events | Guest Book | CFA Shelters | Save-A-Pet Online
| News:rec.pets.cats | Cat FAQ | Feral Neuter/Release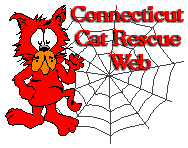 ---
the general rules for using all the boards are the same:
Please stay on topic. Topics and their Boards Are: 1. Lost and Found Cats, 2. Cats for Adoption, Cats Wanted for Adoption
(I can't emphasise this one enough!) In all cases, Connecticut Cat Rescue Web DOES NOT ACCEPT commercial content. We're not a forum for selling cat toys, cat products or anything like that. We don't even have a page for it. Unfortunately, because we're not well funded, we use free sites that advertise on our pages. But, we'd prefer our content to be just about the cats!
No swearing or rudeness. No fighting. No peeing in the corners, clawing the furniture or walking on the keyboard, either. You know, good ol' common sense stuff. What cats are famous for. :)
If you want to find other places to list your animal, check out the Cat Fancier's Home Page and their list of online shelters worldwide or Save-A-Pet Online. Chances are you'll find a group near you who can help.
---
TO REQUEST UPDATES OR CORRECTIONS TO THE WEBSITE:

email catrescue@dreslough.com

CCRW Main | About CCRW | What's New | Listing Instructions
For Adoption | Wanted to Adopt | Lost & Found | Animal Welfare Groups
Discount Spay Clinics | Events | Guest Book | CFA Shelters | Save-A-Pet Online
| News:rec.pets.cats | Cat FAQ | Feral Neuter/Release

Copyright © Connecticut Cat Rescue Web 1995-2002