CCRW Main | About CCRW | What's New | Listing Instructions
For Adoption | Wanted to Adopt | Lost & Found | Animal Welfare Groups
Discount Spay Clinics | Events | Guest Book | CFA Shelters | Save-A-Pet Online
| News:rec.pets.cats | Cat FAQ | Feral Neuter/Release
TO REQUEST UPDATES OR CORRECTIONS TO THE WEBSITE:
email catrescue@dreslough.com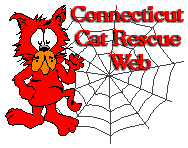 The CCRW Guestbook
Feel free to leave your comments in the guestbook if you wish. Disclaimer: I'm not responsible for anything anyone else puts here, and I reserve the right to remove entries that may be offensive. If you are looking for advice about cats, please don't post your question here. Try the newsgroup rec.pets.cats or look at the cat FAQ.

---
---
TO SUBMIT MATERIALS TO THIS WEBSITE, (Corrections, listings, info, etc) PLEASE EMAIL:
CCRW Main | About CCRW | What's New | Listing Instructions
For Adoption | Wanted to Adopt | Lost & Found | Animal Welfare Groups
Discount Spay Clinics | Events | Guest Book | CFA Shelters | Save-A-Pet Online
| News:rec.pets.cats | Cat FAQ | Feral Neuter/Release
Copyright © 1995-1997 Scott Panzer - - - 7 January 1997 - - - stenor@pcnet.com