CCRW Main | About CCRW | What's New | Listing Instructions
For Adoption | Wanted to Adopt | Lost & Found | Animal Welfare Groups
Discount Spay Clinics | Events | Guest Book | CFA Shelters | Save-A-Pet Online
| News:rec.pets.cats | Cat FAQ | Feral Neuter/Release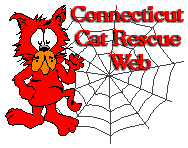 Veterinary clinics providing low cost or discount spay and neutering
---
Call these groups for the latest rates and information...this info is ABSOLUTELY out of date.
Alliance for Animals (Updated 12/21/98) runs a low-cost spay/neuter clinicfor cats & dogs in South Boston, Mass. Also has a cat shelter.
web page: http://www.afa.arlington.ma.us
Alliance for Animals Mobile Action Clinic
232 Silver Street
South Boston, MA 02127-2206
Phone: 617-268-7800
SPAY-USA -- A program of North Shore Animal League. Referrals to discount and low cost spay-neuter clinics throught the nation.
750 Port Washington Boulevard
Port Washington, NY 11050
1-800-248-SPAY or 1-800-248-7729
Spay-Neuter Coalition Provides training and support for spay/neuter clinics, "early" spay/neuter, and mobile clinics, offers spay/neuter internships, and educates veterinary students about pet overpopulation.
<Meowvet@aol.com>
P. W. Larson, DVM
396 Mountain View Road
Williston, VT 05495
(802) 879-1465 evenings only

Alternative Spay -- Drs. Fischbach & Quiñones: 126 East Pearl Street, New Haven, CT 06513. (203) 777-SPAY Discount spay and neuter. Call for rates/policies.

H.E.L.P. for Pets -- Danbury, CT. (203) 792-1477. An animal welfare organization providing low cost spay/neuter assistance. Call for policies and rates.
Orange Center Spay & Neuter Clinic -- Drs. Rossano & Picard: 665 Orange Center Road, Orange. (203) 799-9812
Call for policies and rates.
Rehab-A-Cat Rehab-A-Cat provides low cost spay/neuter assistance to people caring for stray and feral cats. Call (203) 787-5532 or see our web site for more information.

Statewide Veterinary Clinics -- Dr. Calaceto
Torrington - 860-496-1006, 888-613-2034, email stwdevet@compsol.net
Bristol - 860-583-1119
Southington - 860-621-4664
East Hartford - 860-569-0200
Danbury - 203-794-1337
Derby - 203-735- 9339
TEAM TEAM provides discounted spay/neuter and vaccination through a mobile veterinary clinic throughout Connecticut.
PO Box 591
Westbrook, CT 06498
(Toll free) 888-367-8326
(Local area) 860-399-5569
(FAX) 860-399-4530
The Spayed Club (Updated 12/21/98) "The Spayed Club is an all-volunteer, non-profit organization whose mission is to solve dog and cat overpopulation in the Greater Philadelphia area and beyond. Through education and a unique, low-cost spay/neuter program, we work today to prevent tomorrow's unwanted litters from being born. Since June 1990, along with participating veterinarians, TSC has helped to spay/neuter over 10,000 dogs and cats."
More information coming...
---
TO REQUEST UPDATES OR CORRECTIONS TO THE WEBSITE:

email catrescue@dreslough.com

CCRW Main | About CCRW | What's New | Listing Instructions
For Adoption | Wanted to Adopt | Lost & Found | Animal Welfare Groups
Discount Spay Clinics | Events | Guest Book | CFA Shelters | Save-A-Pet Online
| News:rec.pets.cats | Cat FAQ | Feral Neuter/Release

Copyright © Connecticut Cat Rescue Web 1995-2002